Are you planning to travel abroad and want to stay connected with your family, friends, and business contacts? If you are a 9mobile customer, you can enjoy the convenience and affordability of 9mobile Roaming.
This article will explain what 9mobile Roaming is, how much it costs, where you can use it, and how to activate and deactivate it. Continue reading to learn more.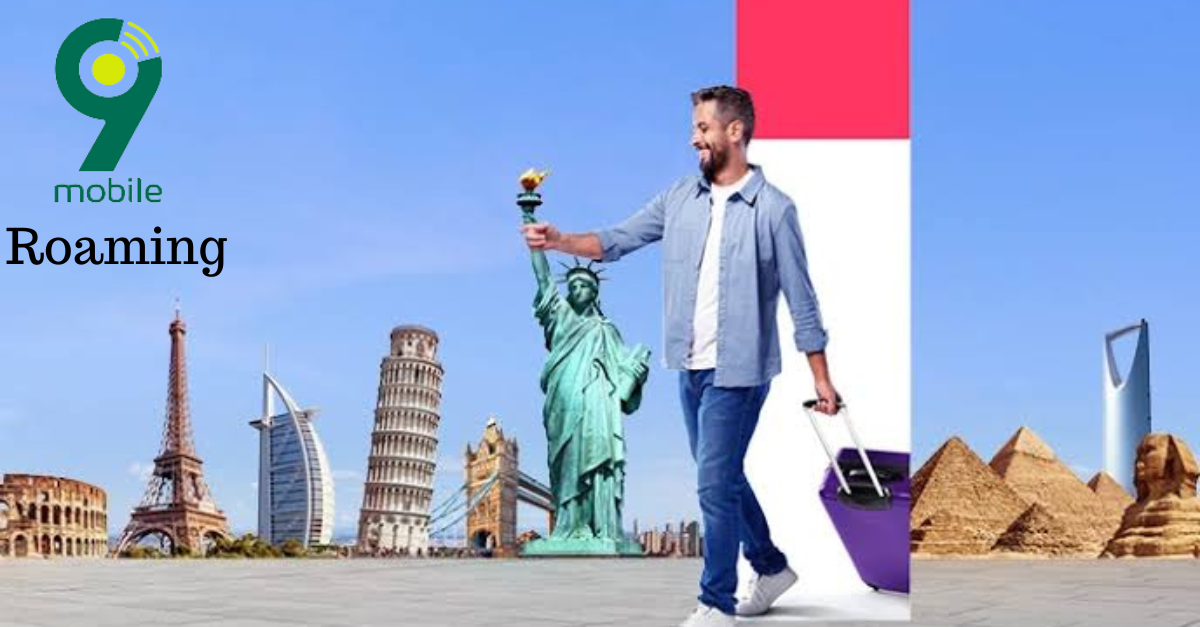 What is 9mobile Roaming?
9mobile Roaming is a service that allows you to make and receive calls, send and receive SMS, and access the internet on your 9mobile line while you are in another country. You can use your existing 9mobile SIM card and phone number without changing anything.
The Roaming bundle or plan can last as long as you are using your 9mobile line in another country. You can deactivate it anytime or automatically deactivate it when you return to Nigeria.
9mobile Roaming Cost
The cost of 9mobile Roaming depends on the type of service you use (voice, SMS, or data), the country you are in, and the network you are connected to. You can find the latest roaming rates for different countries and networks on the 9mobile website.
Some of the benefits of 9mobile Roaming include:
Free incoming calls on selected networks in 10 countries when you recharge ₦5,000 or more within a month

Affordable and uninterrupted access to data while abroad in data roaming destinations

No activation fee or monthly subscription fee

No auto-renewal of data bundles
9mobile Roaming Eligible Destinations
You can use 9mobile Roaming in over 160 countries worldwide, covering popular travel destinations like South Africa, Turkey, Netherlands, Ghana, Spain, Germany, and the UK. You can also choose from over 300 networks across these countries, depending on the availability and quality of service.
You can check the list of eligible destinations and networks on the 9mobile website. Scroll down to see all the eligible destinations, or use the search box and search for the destination you're going to see if it's eligible.
You can dial *6589#, select Roaming and then choose the option *Check Countries* to see eligible countries. Alternatively, send More to 6589 to get a list of more countries in your inbox.
How to Activate 9mobile Roaming
To activate 9mobile Roaming if you're a prepaid 9mobile customer, follow the instructions below:
Dial *6589#.

Select the option for "International Roaming Bundle."

Choose your preferred bundle.

You'll receive a confirmation message once the subscription is successful.
If you are a postpaid customer, you must make a one-time deposit of ₦50,000 online or at any experience center nearest you. This will enable you to access voice, SMS, and data services while roaming. 
When you activate roaming, you will also automatically qualify for free incoming calls on selected networks in 10 countries.
Check This Out!
👉🏽 Mafia Offers: How To Make People Beg to Buy Whatever You Have For Sale
👉🏽 How to Make 300K – 500K Every Month Through E-commerce
👉🏽 Newbie Affiliate Marketing Expo



Note: Ensure that you have the correct or full 9mobile airtime before trying to buy a roaming bundle. Check out how to recharge 9mobile airtime.
9mobile Call Roaming Price
9mobile offers competitive call roaming rates for travelers across popular destinations.
When roaming on select networks in the UAE, enjoy discounted rates as low as ₦50 per minute for both local calls and calls back to Nigeria.
Roaming across preferred networks in Europe and Africa also has unified discounted rates starting from just ₦100 per minute for calls within the visited country or back home to Nigeria.
For travel to Saudi Arabia, take advantage of 9mobile's free incoming call offer when you recharge with ₦5,000. This provides 200 minutes of free incoming calls from Saudi Arabia and Nigeria valid for 30 days.
9mobile Call Roaming Activation
To use 9mobile Call Roaming when you travel abroad. You must first activate a 9mobile roaming on your account. Once enabled, go to your smartphone's settings to turn on roaming and data roaming. You can then connect to 9mobile partner networks overseas and make affordable calls back home or other countries abroad.
9mobile Call Roaming Not Working
If you cannot make calls, browse, or send text messages while Roaming abroad, the first thing you need to check is your Roaming balance to ensure that you have an active Roaming bundle.
Next, Check the list of eligible destinations to make sure your location is covered by 9Mobile and you can use your 9mobile SIM in your location. If the problem persists, remove your SIM and reinsert it, or put your phone in Flight mode to see if this fixes it. If that doesn't work, call 9mobile customer service for assistance.
9mobile SMS Roaming Activation
Before you can send SMS messages while roaming with 9mobile:
Ensure you have Roaming activated on your line. You can visit a 9mobile customer service center close to you, and they will guide you through selecting a roaming bundle for your trip.

Toggle cellular data roaming on as well as Roaming from your Message settings. You will automatically connect to 9mobile's roaming networks to send text messages or SMS.

Turn off roaming when you're back in Nigeria to prevent unwanted SMS charges.
9mobile SMS Roaming Not Working
If you are unable to send or receive SMS texts while roaming internationally on 9mobile's network, here are a few steps you can take:
Confirm that Roaming is enabled on your 9mobile account. 

Check your phone's settings and ensure SMS roaming capability is turned on. Go to Settings > Network & Internet > Mobile Networks > Allow Roaming.

Restart your phone or turn airplane mode on and off to force it to re-register on the roaming network.
How to Check 9mobile Roaming Balance
You can check your 9mobile roaming balance and usage by dialing *228# or *312#. You can also request it via email or SMS. You can also contact the customer care service by dialing +2348090000200 or 300.
How to Deactivate 9mobile Roaming
Deactivating 9mobile Roaming is also simple. You don't need to do anything if you are a prepaid customer. You can switch off your phone when you leave your destination and resume using your normal service when you return to Nigeria.
You can dial *6589*0# or SMS OFF to 6589 to deactivate roaming. This will stop any further charges from your account. You can dial the code whether you're prepaid or postpaid.
Frequently Asked Questions
Can I Roam My 9mobile Line?
Yes, you can roam your 9mobile line if traveling to any eligible destinations and networks. You can use your existing SIM card and phone number without changing anything.
How Do I Buy Roaming Data on 9mobile?
You can buy roaming data on 9mobile by dialing *6589# or SMS WEEKLY or MONTHLY to 6589. You can choose from weekly or monthly bundles valid in 19 destinations. 
Does Roaming Use Airtime?
Yes, Roaming uses airtime for voice and SMS services. You will be charged according to the roaming rates for your country and network. You can check the rates on the 9mobile website or dial *6589#.
Does 9mobile Work in The UK?
Yes, 9mobile works in the UK. You can also enjoy free incoming calls when you recharge ₦5,000 or more within a month.
Do You Need Roaming On?
You need roaming if you want to use your 9mobile line while abroad. You can switch on roaming by activating it on your phone settings.
Conclusion
I hope this article has given you a clear idea of how to activate and deactivate 9mobile Roaming. With this service, you can enjoy seamless communication with your loved ones and business partners while traveling abroad. 
You can save money and avoid bill shocks by choosing your destination's best roaming rates and offers. Remember to check the 9mobile website for the latest updates and information on roaming. Stay connected with 9mobile!