Are you looking for a cheap and reliable way to browse the internet at night? Do you want to download large files, stream videos, or chat with your friends without spending too much on data? If yes, then you should consider using the 9mobile night plan.
The 9mobile night plan is a special data offer that allows you to enjoy unlimited browsing at night for a low price. You can get up to 1GB of data for as low as N200 or 500MB for just N50. This is an excellent deal for anyone who wants to stay connected at night without breaking the bank.
In this article, I will show you how to subscribe to 9mobile night plan, check your balance, and use it effectively. We will also answer some frequently asked questions about the night plan. So, let's get started.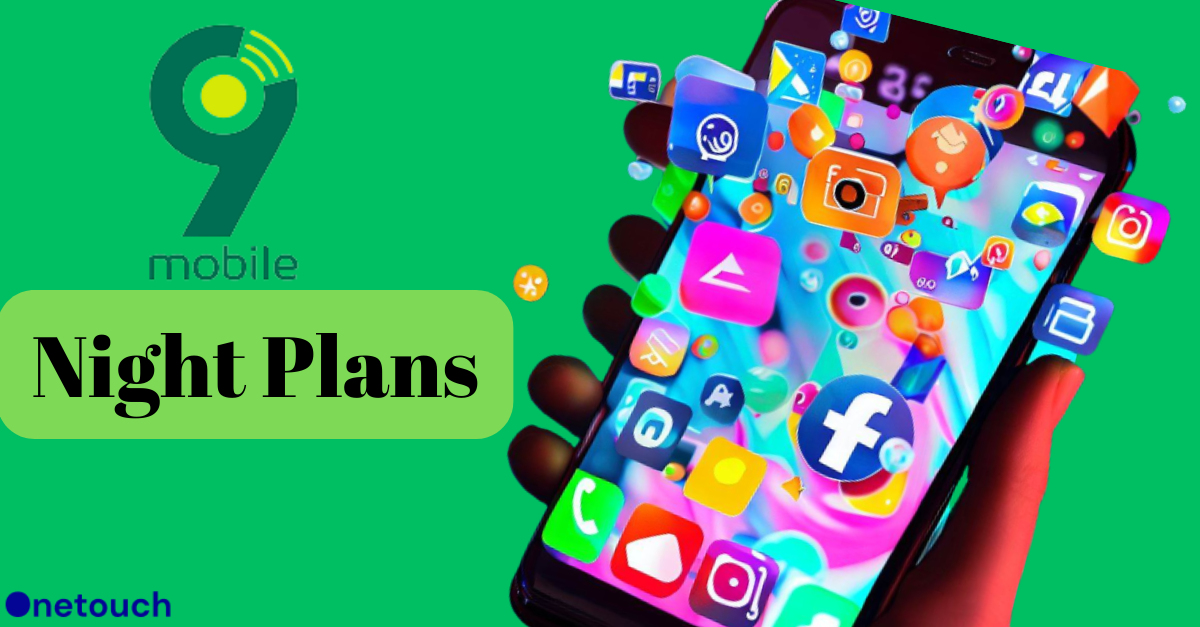 9mobile Night Plan Price & Validity
Are you wondering how much the 9mobile Night Plan cost and how long you can use it? The cost of the 9mobile night plan depends on the option you choose. The table below shows the price and validity of the data plan.
| | | |
| --- | --- | --- |
| Option | Price | Validity |
| 1.5GB | N200 | 12 am – 5 am |
| 2.5GB | N300 | 12 am – 5 am |
The validity period is for a day. You can use it between 11 pm and 5 am every day. You can subscribe to this plan once per night.
How to Subscribe to 9mobile Night Plan
To subscribe and activate the 9mobile Night Plan, do the following:
Dial *312# from the 9mobile line.

Select option 1, "Buy Data."

Choose option 3, "Night Only."

Choose your preferred 9mobile Night Plan from the list and confirm the purchase.

You will receive a confirmation message that you have successfully subscribed to the 9mobile Night Plan

You can start browsing between 12 am and 5 am.
How to Buy 9mobile 500MB 9mobile Night Plan
The 500MB for N50 is available to the 9mobile Morecliq 3.0 Tariff Plan subscribers. The 500MB @ N50 night plan is to be used between 12 am – 5 am. To buy, dial *282*22#. You can migrate to Morecliq 3.0 by dialing *244*1#.
Note: This can be purchased as many times as possible.
How to Check 9mobile Night Plan Balance
To check your night plan balance, you can use the following code:
Dial *323# on your phone.

You will see your 9mobile Night Plan data balance details on your screen.

Alternatively, dial *312# and select the second option to see your Night Plan data balance.
You should check your 9mobile Data balance regularly to avoid running out of data or exceeding your limit. Check out how to check 9mobile data balance for more information.
How to Use 9mobile Night Plan Effectively
To get the most out of your night plan, you should follow the tips and tricks below to help you maximize your data and enjoy your browsing experience:
Turn off background apps and notifications that consume data without your knowledge. You can do this by going to your phone settings and disabling data usage for apps you don't need at night.
Use a data saver mode or browser that compresses data and reduces loading time. With data saver enabled, you can use browsers like Opera Mini, UC Browser, or Google Chrome.
Avoid opening multiple tabs or windows that consume more data. You should focus on one task at a time and close any unnecessary tabs or windows.
Only download or update apps or software that are urgent. It would be best to do this during the day when you can access cheaper or more accessible data plans.
Check out how to save data on 9mobile for mode tips to save and maximize your Night Plan.
Check This Out!
👉🏽 Mafia Offers: How To Make People Beg to Buy Whatever You Have For Sale
👉🏽 How to Make 300K – 500K Every Month Through E-commerce
👉🏽 Newbie Affiliate Marketing Expo


Frequently Asked Questions:
What Is the Code for 9mobile Night Plan?
Dial *312# and follow the prompts. Alternatively, dial *282*22# if you're on the 9mobile Morecliq Tariff Plan.
Can I Extend the Validity Period of My 9mobile Night Plan?
No, the plan is only valid between 12 am and 5 am. The plan must be carried over.
What Happens if I Don't Use All of My Data Before the Validity Period Expires?
You automatically forfeit the remaining data if you don't finish the Night Plan balance before 5 am. You'll be disconnected from the data plan and need to buy a day plan.
How Do I Know if I Am Subscribed to the 9mobile Night Plan?
You'll receive a confirmation message if the Night Plan is successful.
How Do I Cancel My 9mobile Night Plan?
Send "STOP" as a text to 229. You'll receive a confirmation message if you subscribe to a Night Plan. 
Conclusion
The 9mobile night plan is a great way to browse the internet at night without spending too much on data. It offers cheap and fast data bundles that suit your needs and budget. Depending on how much data you need, you can choose between the 500MB for the N50 plan or the 1.5GB for the N200 plan.
To use the 500MB night plan, you must first migrate to MoreCliq Tariff Plan. Then, you can subscribe to the night plan by dialing the USSD.
If you have issues with your 9mobile data, read our 9mobile data troubleshooting guide for tips to help get your data working again. Stay connected with 9mobile!