Telecommunications businesses keep developing new technologies to enhance their services as the world's technological breakthroughs in this very field never go on a break.
Because of this, one of the top telecom firms in Nigeria, MTN, has rolled out its 5G network in selected regions.
Their subscribers can now take advantage of this to experience higher internet speeds, lower latency, and better connectivity thanks to this development.
In this article, I will show you a simple way to activate or port from the 4G network to the 5G network. Also answering frequently asked questions related to MTN 5G network.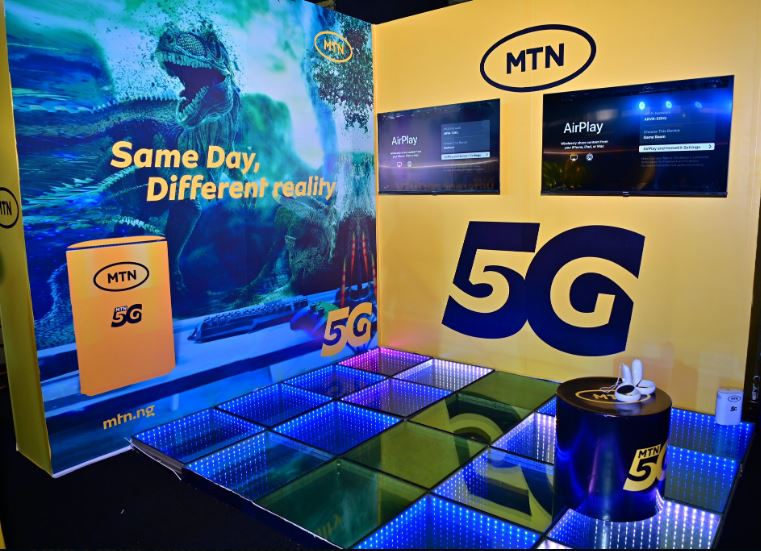 What Is MTN 5G Network?
MTN 5G network is a wireless technology that will revolutionize how we use the internet, with download speeds up to ten times faster than its predecessor (The 4G network) and will usher in a new era of technical development with never-before-seen innovations and apps.
When you log into the MTN 5G network in Nigeria, you will be able to watch your favourite movies in 4K, have lag-free video chats with your loved ones, play quality games, and transfer files at lightning-fast speeds.
MTN received the license to start installing their 5G network in Nigeria from the Nigerian Communication Commission (NCC) in December 2021.
This allowed MTN to launch their 5G network in Nigeria on the 24th of August, 2022.
Making MTN the first telecom provider to roll out 5G technology services in Nigeria.
How to Check 5G Support on Android Phone
To check if your Android phone supports 5G connectivity, follow these steps:
Check This Out!
👉🏽 Mafia Offers: How To Make People Beg to Buy Whatever You Have For Sale
👉🏽 How to Make 300K – 500K Every Month Through E-commerce
👉🏽 Newbie Affiliate Marketing Expo


Go to your phone's Settings app.
Scroll down and select "Network & Internet".
Select "Mobile network".
Look for "Preferred network type" or "Network mode" and tap on it.
If 5G is listed as an option, then your phone supports 5G connectivity. If not, then your phone does not support 5G.
How to Check 5G Support on iPhone
To check if your iPhone supports 5G connectivity, follow these steps:
Go to your iPhone's Settings app.
Tap on "Cellular".
Tap on "Cellular Data Options".
If "Voice & Data" is displayed, tap on it. If not, skip to step 5.
Look for the "Enable LTE" or "Voice & Data" option and tap on it.
If 5G is listed as an option, then your iPhone supports 5G connectivity. If not, then your iPhone does not support 5G.
How To Activate MTN 5G In Nigeria
Making sure you have a suitable smartphone is the first step in enabling MTN 5G.
It is crucial to verify whether your gadget is 5G compatible because not all devices are compatible with the 5G technology using the above method.
Alternatively, by sending an SMS. Text 5G to 131, this will let you know if a phone or sim card is compatible with the MTN 5G network.
The next step is to make sure you have an MTN 5G SIM card after confirming that your device is 5G compatible.
MTN offers 5G SIM cards to its customers who own 5G-capable gadgets.
Any MTN store or the authorized dealer in your area should be able to provide you with a 5G SIM card. Make sure you give the information requested during registration in order to properly register your SIM card with the right details.
Once you've obtained a 5G SIM card, you must make sure that your device is in 5G mode.
To do this, go to your device's settings menu and choose the mobile network option.
Choose 5G as your chosen network type after selecting your preferred network type.
The next step is to purchase MTN dedicated 5G data plan. Select number 9 after dialling *131*1# to make a purchase.
Do note that your normal or existing data plan will work while on a 5G network.
How Do I Install MTN 5G Broadband Router
A router is a networking device that connects multiple devices to the internet or other networks. It acts as a central point that connects devices, such as computers, smartphones, and smart home devices, to a local area network (LAN) and the internet.
The same thing is done by an MTN 5G router, but in this instance, it connects you to MTN's 5G network and enables you to share it with your smartphone, laptop, tablet, etc.
Up to thirty-two devices can be connected to the MTN 5G router, which also comes with a 100GB data welcome bonus.
For a better understanding of how to set up the router, watch the YouTube video below.
Devices Compatible With MTN 5G
Using a smartphone that is 5G capable is one method to experience the 5G network. In order to join the MTN 5G network and expand your world's possibilities, you will need a new 5G phone if your current one does not support 5G.
You will get the following just for starting your 5G smartphone on the MTN network:
5GB "one-off" (that can't be rolled over) data for free, and 11GB for free with certain data bundle orders starting at five thousand naira for three months. (please see their terms and conditions or visit the nearest MTN store for more information).
Here's a list of devices that are compatible with the MTN 5G network;
Nokia:        Nokia X10, Nokia X20, Nokia 8.3 5G,
Xiaomi:      Mi 12, Mi 13
Redmi:        Note 12 5G, Note 12 Pro+, Note 10 5G, Note 11 Pro+ 5G
Vivo:           Vivo V23 5G and Vivo V25 5G
Huawei:     Huawei Mate 40 Pro 5G
Apple:        iPhones 12, 13 14 and SE 3rd Gen
Tecno:        Phantom X2 series (Phantom X2 & Phantom X2 PRO)
Samsung:  Galaxy- A73 5G, A54 5G, A53 5G, S23 Utra
The fact that these phones are listed there as 5G compatible devices does not mean that they are the only ones. There are lots of phone brands in the market that support 5G.
MTN 5G Network Frequency Band
MTN Nigeria's 5G network uses the 3.5GHz frequency band. This is the same frequency band used by most 5G networks around the world. The 3.5GHz band offers a good balance of speed and coverage, making it ideal for 5G applications.
Frequently Asked Questions
Does MTN Have 5G SIM?
No, MTN does not have a special 5G Sim as at the time of writing this article.
You can access the MTN 5G network with your 4G sim on a phone that is 5G enabled. If your SIM is 3G, you need to perform a sim swap to get a 4G and 5G compatible sim card.
How Do I Change My 4G SIM To 5G?
You won't have to change a 4G sim to 5G, your 4G sim works just fine.
How Do I Upgrade My MTN 4G to 5G?
You can upgrade from a 4G network to a 5G network using a 5G enabled device.
How Much Does MTN 5G Cost?
The MTN 5G broadband router currently costs fifty thousand naira (50,000 NGN) while its data subscription ranges from five thousand naira to twenty thousand naira (5,000 – 20,000 NGN).
How Much Is MTN 5G WiFi In Nigeria?
As of the time of writing this article, you can get an MTN 5G router from Jumia at the price of 50,000 Naira.
Is MTN 5G Fast?
Yes, the MTN 5G network is fast with a download speed of up to 1.3Gbps when you are in an area that has MTN 5G network coverage.
In some locations, you will get more than 1.3Gbps when you do a speed test. Currently, MTN 5G is way faster than Elon Musk's Starlink.
Is There MTN 5G In Nigeria?
Yes, it was launched on the 24th of August,2022. Check out the current MTN 5G coverage on the MTN website.