Are you new to the MTN Nigeria network or struggling to remember your phone number? If you ask yourself, "How to know my MTN number?" you're not alone! Several other users are asking the same. Knowing your phone number is crucial, particularly when you need to share it with friends, family, or business associates.
In this blog post, you'll learn how to check your MTN number on your mobile phone. Whether you use a smartphone or not, this guide will work for you. So, let's get started!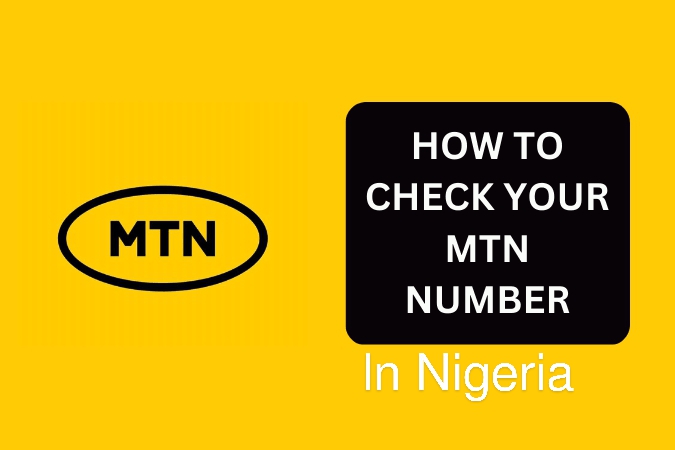 How to Get My Number on MTN SIM Using Code
Use the quick and convenient USSD code *123# to check your MTN phone number. Dial the code from your MTN phone and select the "My Number" option from the list of options that appear. Your phone number will be displayed on the screen immediately.
Another way to find your MTN phone number is by dialling 1231*1#. This USSD code will also display your MTN number on your screen.
How to Check MTN Number via SMS 
This method can be tricky, but it's quite easy. You do this by sending an SMS from your number to another number or to the second number of your mobile device. To do this, try the steps below:
Step 1: Open the message app and type "Hello"
Step 2: Send the message to another number you have access to.
Step 3: Once you receive the message, open the message, and you should see your MTN number as the sender.
How to Check MTN Number Calling Customer Care 
Call MTN's customer care line by dialing "180" to check or know your phone number. Simply explain to the representative that you need to know your MTN number, and they will assist you. Feel free to contact MTN's customer care to find your phone number.
Check This Out!
👉🏽 Mafia Offers: How To Make People Beg to Buy Whatever You Have For Sale
👉🏽 How to Make 300K – 500K Every Month Through E-commerce
👉🏽 Newbie Affiliate Marketing Expo


How to Get MTN Number From SIM
You can get your MTN number from your SIM by dialling *663# and sending it using the dial button on your phone keyboard. A pop-up message will appear on your phone screen showing you the number of the MTN SIM Card in the mobile phone.
How to Get MTN Number From Phone
On an Android phone;
Go to "Settings."

Scroll down and tap on "About phone."

Tap on "Status." Then look  for "My phone number." This should display your MTN phone number.
On an iPhone; 
Go to "Settings."

Tap on "Phone."

Look for "My Number." This should display your MTN phone number.
How to Get My Number on MTN SIM Online
You check and get your MTN number online by chatting with Zigi online and on WhatsApp. Alternatively, open the MyMTN app on your phone and you'll find your mobile number on the dashboard.
Frequently Asked Questions:
How to Get My Old MTN Number Back
Getting your old MTN number back may be difficult, especially if the line has been recycled and another user has it. However, you can visit the MTN customer service centre or office close to you and ask to retrieve your MTN line.
How to Retrieve My MTN Number Online
You need help retrieving your MTN number online. You'll have to walk into an MTN experience center and provide them with an Affidavit or your SIM pack, a means of identification, and three contacts you Frequently call to retrieve the line.
Conclusion
There you have it! Quick ways and methods to check your MTN number. You don't have to be embarrassed about forgetting your SIM any longer; choose any of the options above, and knowing your number should be a breeze.
Also, you can check the back of your SIM card for the number. Each SIM card comes with packaging where the number may be written on the back.