As mobile technology continues to advance, the traditional physical SIM card is being replaced by the electronic SIM, or e-SIM. This new technology brings many benefits, such as convenience, flexibility, and improved device design. As a leading mobile network provider, 9mobile offers support for e-SIM activation, allowing users to enjoy these advantages. 
In this article, I will guide you through how to activate 9mobile eSIM. You'll also find answers to some common questions to help you get the most out of your eSIM. Let's get started!!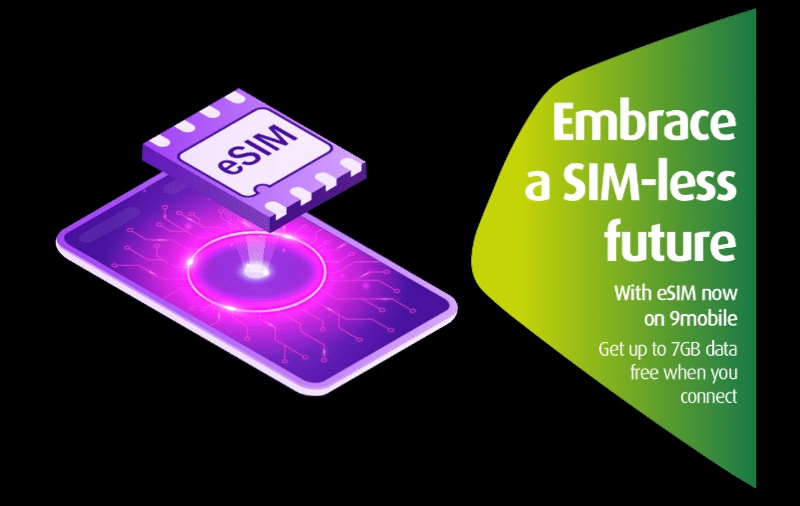 What is an eSIM?
eSIMs are small chips that allow devices like smartphones and tablets to connect to mobile networks for voice, messaging, and data services. They are rewritable and can store multiple profiles, making it easy to switch between different mobile network providers or plans without changing the SIM card. 
Overall, eSIMs provide a simple and secure way to stay connected without the stress of changing or removing SIMs like traditional SIM Cards.
Compatibility and Requirements
To activate 9mobile e-SIM just like MTN eSIMs, it's important to confirm that your device is compatible with eSIM technology. Nowadays, many leading manufacturers include eSIM capabilities in their modern smartphones and connected devices.
Brands                 Compatible phones
Apple                    iPhone 11, 11 Pro, 11 Pro Max, 13 Series, 14 Series, iPhone XS, XS Max, iPhone XR
Samsung              Samsung S20 Series
Google Pixel       Pixel 3, 3 XL, Pixel 4, 4 XL
Note: The above list is not all the devices compatible with eSIM technology. Check your device manual or contact your manufacturer to check and confirm if your device is compatible to use eSIM.
How to Activate 9mobile eSIM
To activate your 9mobile eSIM, follow these simple steps:
First, make sure that your smartphone or device is eSIM compatible.

Head to your nearest

9mobile customer service center

and request for an eSIM profile.

Once you have your eSIM profile, scan the QR code on your smartphone.
And voila, your eSIM is now activated! For more detailed instructions on how to activate eSIM on your Android or iOS device, continue reading.
Check This Out!
👉🏽 Mafia Offers: How To Make People Beg to Buy Whatever You Have For Sale
👉🏽 How to Make 300K – 500K Every Month Through E-commerce
👉🏽 Newbie Affiliate Marketing Expo


How to Activate 9mobile eSIM on Andriod & iPhone
Here are the steps to activate 9mobile eSIM on your Android or iPhone device:
For Android:
Check if your device can support eSIM.

Go to the Settings app and select "Network & Internet."

Tap on "Mobile Network" and then select "Advanced."

Click on "Carrier" and then select "Add Carrier."

Scan the QR code given to you by the customer care agent.
Your eSIM will be activated and added to your Android device immediately.
For iPhone:
Ensure that your device is eligible for eSIM activation.

Open your phone's Settings and select "Mobile Data."

Click on "Add eSIM."

Scan the QR code provided by the customer care agent.
Your eSIM will be activated and added to your iPhone immediately.
Frequently Asked Questions (FAQs): How to Activate 9mobile eSIM
Who is eSIM For?
eSIM is available to all new and existing customers on the 9mobile network.
How Long Does It Take To Activate 9mobile eSIM?
The activation process takes a few minutes.
Can I Activate 9mobile eSIM on Any Device?
No, you can only activate 9mobile eSIM on devices that support eSIM technology.
Can I Use My Existing 9mobile Number for eSIM Activation?
Yes, you can activate your eSIM using your existing 9mobile number, which allows you to retain your current number while enjoying the benefits of e-SIM technology.
Can I Switch Back to a Physical SIM After Activating eSIM?
Yes, most devices that support e-SIM technology also have a physical SIM card slot, allowing you to switch back anytime you feel like changing.
Can I Use My eSIM Profile on Multiple Devices Simultaneously?
No, e-SIM profiles are typically tied to a specific device and cannot be used simultaneously on multiple devices except you remove it from the device it's tied to and activate it on the new device.
Can I Transfer My eSIM Profile to a New Device?
Yes, you can transfer your 9mobile eSIM profile to a new compatible device.
I Have an eSIM Phone. How Do I Buy and Register an eSIM Line?
Simply visit any 9Mobile Experience Centre and request an eSIM activation. You will be provided with a QR code to scan and download the eSIM profile.
Do I Require Data to Download My eSIM Profile?
Yes, you must be connected to a data network to download your eSIM profile.
I Bought a New Phone; Can I Swap My Line Back to Regular SIM
Yes, you can. Visit a 9mobile customer service center close to you for assistance.
I Have a Physical SIM; How Do I Change to an eSIM?
You will need to perform a SIM swap at any 9mobile customer care center into an eSIM.
What Happens if I Misplace My eSIM Device?
If you need to block your 9Mobile phone number, simply visit any 9Mobile Experience center and request for it to be blocked. After that, you can proceed with a SIM swap right away.
What Happens if I Misplace My QR Code?
The QR code can always be retrieved at any time from any 9Mobile Experience centres close to you.
Can an eSIM Profile Be Used More Than Once?
Yes, it can be used as many times as possible. However, it can only be downloaded and installed in a device  once the profile is removed from the current active device.
Conclusion
With 9mobile e-SIM, you can enjoy stress free connectivity without changing SIM cards like your traditional physical SIM cards. This innovative technology comes with a built-in SIM card that can be easily activated on any compatible device. 
Follow the step-by-step guide in this article to activate 9mobile e-SIM and experience seamless mobile communication. Stay connected with 9mobile!