Are you looking for a way to enjoy unlimited access to the best video-on-demand (VOD) content worldwide? Do you want to watch and stream thousands of popular movies, TV series, documentaries, sports events, skits, kids, music videos, gospel music, and more? You should check out Airtel TV if you answered yes to any of these questions.
In this article, I will show you everything you need to know about Airtel TV, including its features, benefits, how to sign up, how to watch and stream content, and how to play games on your TV. Read on to find out more.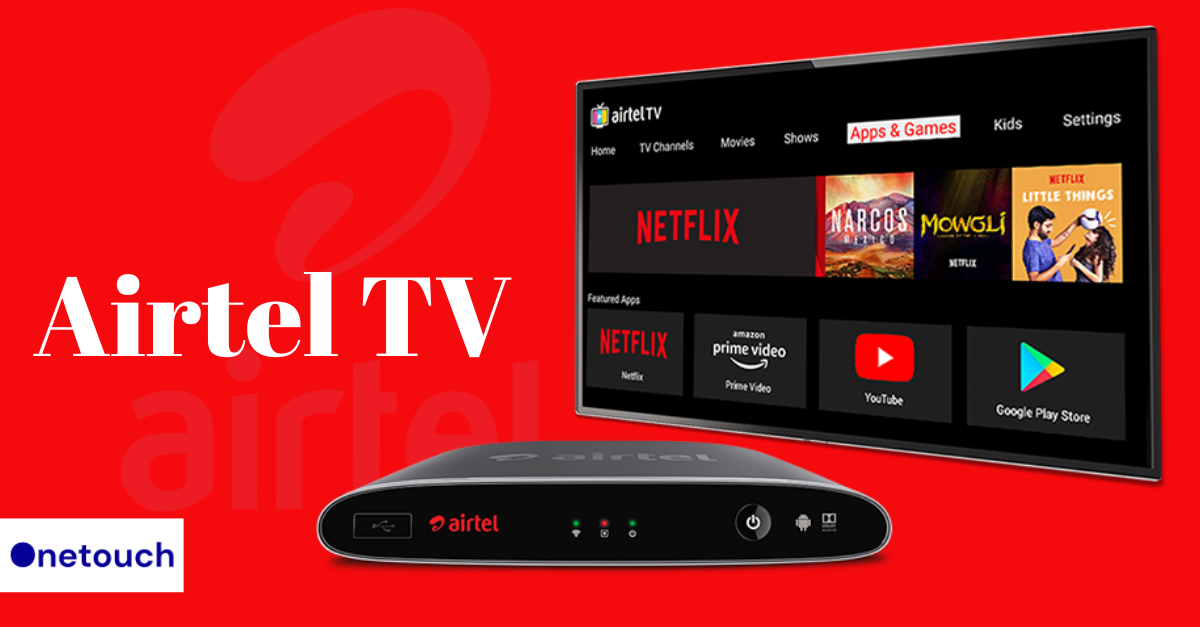 What is Airtel TV?
Airtel TV brings entertainment alive on your TV or smartphone with various streaming content. Watch live TV channels like MTV Base, National Geographic, Nickelodeon, Al Jazeera, Bloomberg, and many more. With a vast video-on-demand library, you can watch movies, TV shows, documentaries, and more in English, Hausa, Igbo, and Yoruba.
The Airtel TV app offers a personalized experience when streaming on your device. Streaming is quick and fast with Airtel's high-speed data network. Data plans are affordable, allowing you to watch uninterrupted entertainment—download shows and movies to watch later offline.
Features And Benefits of Airtel TV
Below are Some of the features and benefits of Airtel TV:
No subscription is required! However, data charges apply.

Access to a variety of genres such as Drama, Romance, Action, Comedy, Music, Faith/Religion, Health/Fitness, Kids and Documentaries.

Browse through titles or search for your favorite movies, videos or channels by entering related fields such as Movie/TV Show title/Director/Actor/Channel name into the Search bar at the top of the page

Movies are available in Hausa, Igbo, Yoruba and English language.

Regular newsletters to notify you of new releases.

Great content for your kids as well as for bonding with the family.
How to Sign Up for Airtel TV
Signing up for Airtel TV is easy. Just follow these steps:
Step 1: Download the Airtel TV app from the Google Play Store or Apple App Store.
Step 2: Launch the Airtel TV app and tap "Register".
Step 3: Enter your registered Airtel mobile number and email address. Tap "Continue".
Step 4: You will receive a 4-digit OTP on your phone. Enter this OTP in the app to verify your number.
Step 5: Your Airtel TV account is now registered. Sign in with your email/phone number.
Step 6: Browse the content catalog and stream your favorite shows and movies.
Check This Out!
👉🏽 Mafia Offers: How To Make People Beg to Buy Whatever You Have For Sale
👉🏽 How to Make 300K – 500K Every Month Through E-commerce
👉🏽 Newbie Affiliate Marketing Expo



Step 6: Buy an Airtel Data Plan to access and continue using Airtel TV. Dial *312# and choose from various affordable plans.

That's it! Follow these simple steps to sign up and enjoy unlimited entertainment and stream anytime, anywhere on your mobile, laptop, or TV.
How to Watch and Stream Content on Airtel TV
Watching and streaming content on Airtel TV is easy. You only need to Sign in to start watching your favorite movies and TV Shows. Follow the instructions below to Watch and Stream contents on your device:
Step 1: Sign in to the App with your Airtel Phone number.
Step 2: Browse content categories and genres. Navigate through sections like Featured, Movies, TV Shows, Live TV, Kids, Music, etc. You can filter content by language, popularity, release date, etc.
Step 3: Search for your favorite titles. Use the search bar to find movies, shows, and channels by title, actor, director, etc.
Step 4: Create a Watch List. Tap the heart icon on a title to add it to your Watch List. You can access your Watch List anytime from the menu in the top left.
Step 5: Cast to your TV. Use the Chromecast built-in function to stream from your phone, tablet, etc. to your TV. Just connect to the same WiFi and tap the Cast button in the app.
Frequently Asked Questions
Is Airtel TV Free?
Yes. No subscription is required; you only need an active Airtel Data Plan to watch your favorite movies and TV Shows.
Who Can Use or Access Airtel TV?
All of Airtel's prepaid and postpaid customers can access the streaming service. If you're not on Airtel, you'll have to Port to Airtel or get a new Airtel SIM and follow the tips in this article to activate.
Can I Use Wi-Fi or Other Mobile Networks to Access Airtel TV?
Airtel TV can only be accessed through an Airtel cellular data or Airtel Wi-Fi connection. Access via other Wi-Fi networks or mobile data networks is restricted.
What Happens if My Airtel Data Bundle Finishes While Using Airtel TV?
You will get a prompt to subscribe to an Airtel data plan to continue enjoying uninterrupted streaming. Choose from a range of affordable data plans according to your needs.
Is It Possible to Access Airtel TV if I Do Not Have an Airtel SIM Card?
Access to Airtel TV requires an active Airtel mobile connection. Without an Airtel SIM card, you cannot sign up, access content, or stream anything on the platform. For the best streaming experience, get a new Airtel SIM or use your existing Airtel connection.
Final Words
Airtel TV offers a world of entertainment on your TV with unlimited access to popular movies, series, live channels, music, and more. You can quickly sign up via the app and browse, search, create watchlists, and stream content from leading global and local providers.
Airtel TV is a great way to enjoy unlimited entertainment on your big screen. It is easy to use, affordable, and convenient. So what are you waiting for? Download the app today and start streaming!